The Top 3 Kitchen Projects: What the Pros Need to Know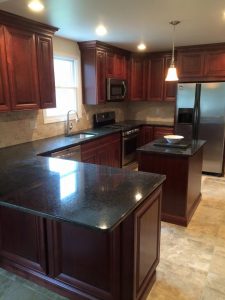 Making updates to a home can be a daunting project. If you feel you aren't up to the task of taking on these complicated projects on your own just yet, it may be safe to rely on the assistance of a professional for any or all of the 3 most popular kitchen upgrades. Installing a kitchen sink, flooring and kitchen cabinets are among the most frequently requested updates when homeowners take on a kitchen remodeling project.
Professionals should be aware of the types of kitchen sinks their clients are looking to have installed. The current trend is leaning towards farmhouse sinks with one deep basin as opposed to the dual basin trends of the past. The farmhouse sink is usually installed flush with the countertop, which is aesthetically pleasing and surprisingly easy to keep clean.
Another kitchen remodeling project on the rise is flooring installation. Although some types of tile flooring may be easily installed, authentic hardwood flooring may be better suited to a professional for installation. Installing flooring can be a difficult task if you aren't familiar with the processes and procedures. The precise measurements and calculations provided by a professional can help ensure your flooring is properly installed and doesn't have any flaws or other imperfections.
The final top kitchen project is installing kitchen cabinets. Prefabricated cabinets are always an option for the homeowner on a budget, but they may not offer the same level of customization as custom built cabinets for the kitchen. A professional is likely very knowledgeable on the subject of installing kitchen cabinetry and may be preferred when it comes time to actually have the cabinets installed. Cabinets will become a focal point of your kitchen and deserve to be installed in a professional manner.
Kitchen remodeling can be an exciting time for a homeowner. To truly enjoy the experience and know everything is installed to code, it's sometimes better to entrust a team of professionals with your kitchen remodel.